A long day for mi­crobes, and the rise of oxy­gen on Earth
Vir­tu­ally all oxy­gen on Earth was and is pro­duced by pho­to­syn­thesis, which was in­ven­ted by tiny or­gan­isms, the cy­anobac­teria, when our planet was still a rather un­in­hab­it­able place. Cy­anobac­teria evolved more than 2.4 bil­lion years ago, but Earth only slowly trans­formed to the oxy­gen-rich planet we know today. "We do not fully un­der­stand why it took so long and what factors con­trolled Earth's oxy­gen­a­tion," said geo­mic­ro­bi­o­lo­gist Ju­dith Klatt. "But when study­ing mats of cy­anobac­teria in the Middle Is­land Sink­hole in Lake Huron in Michigan, which live un­der con­di­tions re­sem­bling early Earth, I had an idea."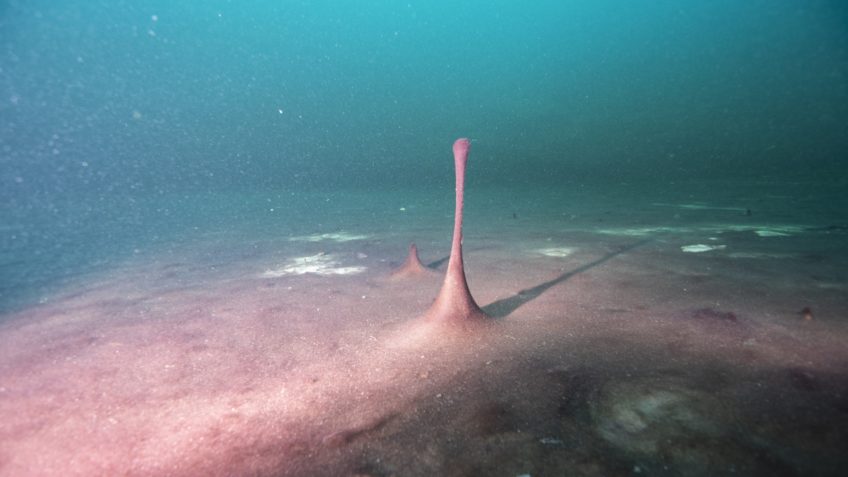 Cyanobacteria are late risers
Klatt worked to­gether with a team of re­search­ers around Greg Dick from the Uni­versity of Michigan. The wa­ter in the Middle Is­land Sink­hole, where ground­wa­ter seeps out of the lake bot­tom, is very low in oxy­gen. "Life on the lake bot­tom is mainly mi­cro­bial, and serves as a work­ing ana­log for the con­di­tions that pre­vailed on our planet for bil­lions of years", says Bopi Bid­danda, a col­lab­or­at­ing mi­cro­bial eco­lo­gist from the Grand Val­ley State Uni­versity. The mi­crobes there are mainly purple oxy­gen-pro­du­cing cy­anobac­teria that com­pete with white sul­fur-ox­id­iz­ing bac­teria. The former gen­er­ate en­ergy with sun­light, the lat­ter with the help of sul­fur. In or­der to sur­vive, these bac­teria per­form a tiny dance each day: From dusk till dawn, the sul­fur-eat­ing bac­teria lie on top of the cy­anobac­teria, block­ing their ac­cess to sun­light. When the sun comes out in the morn­ing, the sul­fur-eat­ers move down­wards and the cy­anobac­teria rise to the sur­face of the mat. "Now they can start to pho­to­syn­thes­ize and pro­duce oxy­gen," ex­plained Klatt. "However, it takes a few hours be­fore they really get go­ing, there is a long lag in the morn­ing. The cy­anobac­teria are rather late risers than morn­ing per­sons, it seems." As a res­ult, their time for pho­to­syn­thesis is lim­ited to only a few hours each day. When Brian Ar­bic, a phys­ical ocean­o­grapher at the Uni­versity of Michigan, heard about this diel mi­cro­bial dance, he raised an in­triguing ques­tion: "Could this mean that chan­ging daylength would have im­pacted pho­to­syn­thesis over Earth's his­tory?"
Daylength on Earth has not al­ways been 24 hours. "When the Earth-Moon sys­tem formed, days were much shorter, pos­sibly even as short as six hours," Ar­bic ex­plained. Then the ro­ta­tion of our planet slowed due to the tug of the moon's grav­ity and tidal fric­tion, and days grew longer. Some re­search­ers also sug­gest that Earth's ro­ta­tional de­cel­er­a­tion was in­ter­rup­ted for about one bil­lion years, co­in­cid­ing with a long period of low global oxy­gen levels. After that in­ter­rup­tion, when Earth's ro­ta­tion star­ted to slow down again about 600 mil­lion years ago, an­other ma­jor trans­ition in global oxy­gen con­cen­tra­tions oc­curred. After not­ing the stun­ning sim­il­ar­ity between the pat­tern of Earth's oxy­gen­a­tion and ro­ta­tion rate over geo­lo­gical times­cales, Klatt was fas­cin­ated by the thought that there might be a link between the two – a link that went bey­ond the "late riser" pho­to­syn­thesis lag ob­served in the Middle Is­land sink­hole. "I real­ized that daylength and oxy­gen re­lease from mi­cro­bial mats are re­lated by a very ba­sic and fun­da­mental concept: Dur­ing short days, there is less time for gradi­ents to de­velop and thus less oxy­gen can es­cape the mats," Klatt hy­po­thes­ized.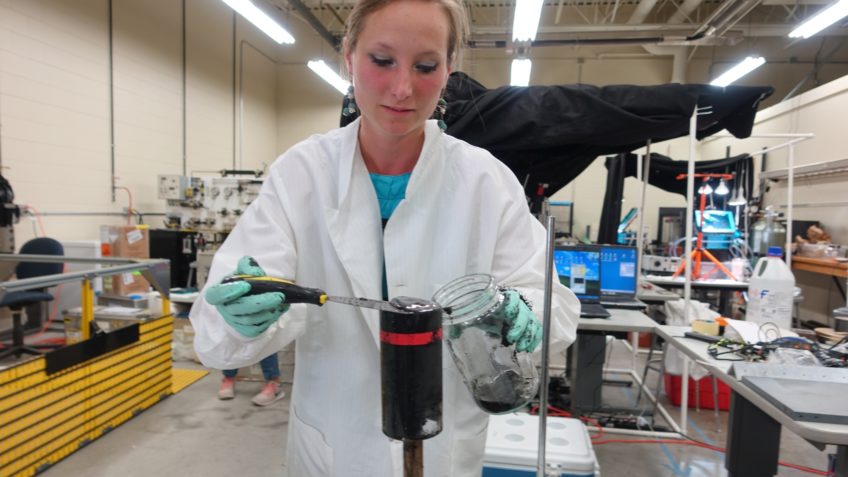 From bacterial mats to global oxygen
Klatt teamed up with Ar­jun Chennu, who then also worked at the Max Planck In­sti­tute for Mar­ine Mi­cro­bi­o­logy and now leads his own group at the Leib­niz Centre for Trop­ical Mar­ine Re­search (ZMT) in Bre­men, another member of the DAM. Based on an open-source software de­veloped by Chennu for this study, they in­vest­ig­ated how sun­light dy­nam­ics link to oxy­gen re­lease from the mats.  "In­tu­ition sug­gests that two 12-hour days should be sim­ilar to one 24-hour day. The sun­light rises and falls twice as fast, and the oxy­gen pro­duc­tion fol­lows in lock­step. But the re­lease of oxy­gen from bac­terial mats does not, be­cause it is lim­ited by the speed of mo­lecu­lar dif­fu­sion. This subtle un­coup­ling of oxy­gen re­lease from sun­light is at the heart of the mech­an­ism," said Chennu.
To un­der­stand how the pro­cesses oc­cur­ring within a day can im­pact long-term oxy­gen­a­tion, Klatt and her col­leagues in­cor­por­ated their res­ults into global mod­els of oxy­gen levels. The ana­lysis sug­gests that the in­creased oxy­gen re­lease due to daylength change could have boos­ted oxy­gen levels glob­ally. It is a link between the activ­ity of tiny or­gan­isms and global pro­cesses. "We tie to­gether laws of phys­ics op­er­at­ing at vastly dif­fer­ent scales, from mo­lecu­lar dif­fu­sion to plan­et­ary mech­an­ics. We show that there is a fun­da­mental link between daylength and how much oxy­gen can be re­leased by ground-dwell­ing mi­crobes," said Chennu. "It's pretty ex­cit­ing. This way we link the dance of the mo­lecules in the mi­cro­bial mat to the dance of our planet and it's Moon." Over­all, the two ma­jor oxy­gen­a­tion events (jumps in oxy­gen con­cen­tra­tion) in Earth's his­tory – the Great Ox­id­a­tion Event more than two bil­lion years ago and the later Neo­protero­zoic Oxy­gen­a­tion Event – might be linked to in­creas­ing daylength. Hence, in­creas­ing daylength could have boos­ted benthic net pro­ductiv­ity suf­fi­ciently to im­pact at­mo­spheric oxy­gen levels. "Jug­gling with this wide range of tem­poral and spa­tial scales was mind-bog­gling – and lots of fun," Klatt con­cludes.
J. M. Klatt, A. Chen­nu, B. K. Ar­bic, B. A. Biddan­da, G. J. Dick: Pos­si­ble link bet­ween Ear­t­h's ro­ta­ti­on rate and oxy­ge­na­ti­on. Na­tu­re Geo­sci­en­ces (2021) DOI: 10.1038/s41561-021-00784-3
Contact
Dr. Judith Klatt
Microsensor Group
MPI for Marine Microbiology
Phone: +49 421 2028-8320
Mail: jklatt(at)mpi-bre­men.de
Dr. Fanni Aspetsberger
Head of Press & Communications
MPI for Marine Microbiology
Phone:  +49 421 2028-9470
Mail: fas­petsb(at)mpi-bre­men.de
Andrea Daschner
Head of Public Relations
Leibniz Centre for Tropical Marine Research
Phone +49(0)421 238 00 – 72
Mail: andrea.daschner(at)leibniz-zmt.de
Header image: A scuba diver observes the purple, white and green microbes covering rocks in Lake Huron's Middle Island Sinkhole. Photo: Phil Hartmeyer / NOAA Thunder Bay National Marine Sanctuary.
Newsletter
Always up-to-date with the DAM-Newsletter.