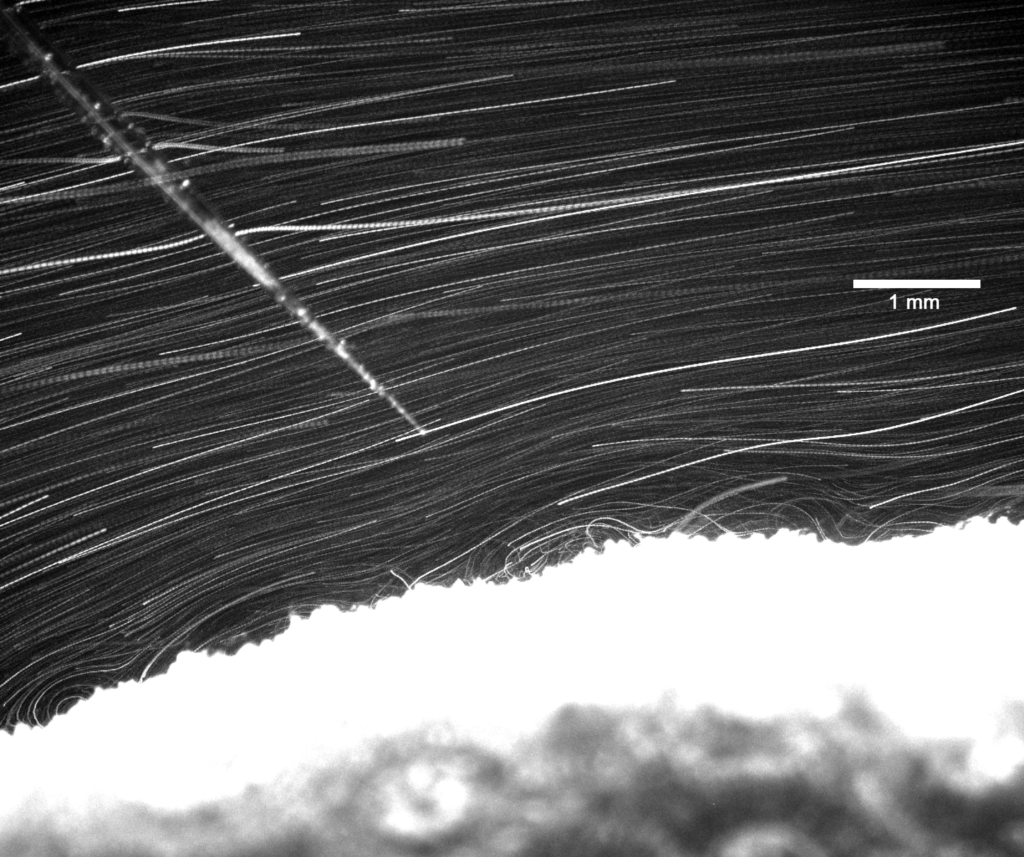 Mi­cro­particles with feel­ing
Watch­ing cor­als breathe: Re­search­ers de­velop a new method to sim­ul­tan­eously meas­ure flow and oxy­gen.
An international research team headed by the Max Planck Institute for Marine Microbiology in Bremen (member of the DAM), Aarhus University and the Science for Life Lab in Uppsala has developed tiny particles that measure the oxygen concentration in their surroundings. In this way, they can track fluid flow and oxygen content at the same time – exciting prospects for many fields of research, from biology to physics.
The sur­face of a coral is rugged. Its hard skel­eton is pop­u­lated by polyps that stretch their tentacles into the sur­round­ing wa­ter to fil­ter out food. But how ex­actly does the wa­ter flow over the coral sur­face, what ed­dies and flows de­velop, and what does this mean for the oxy­gen sup­ply around the coral and its as­so­ci­ated al­gae? Un­til now, there was no an­swer to these ques­tions. Now an in­ter­na­tional re­search team around So­eren Ah­merkamp from the Max Planck In­sti­tute for Mar­ine Mi­cro­bi­o­logy in Bre­men, Klaus Koren from the Aar­hus Uni­versity in Den­mark and Lars Behrendt from the Uppsala Uni­versity and SciLifeLab in Sweden. has de­veloped a method that al­lows study­ing the flow and oxy­gen con­cen­tra­tions sim­ul­tan­eously at very small scales. Now it is pos­sible to see how the cor­als gen­er­ate a flow with their cilia, thus in­creas­ing oxy­gen trans­port.
Ac­cur­ate and fast as never be­fore
Oxy­gen and life are in­ex­tric­ably linked, from single cells to whole or­gan­isms. Across a few mi­cro­met­ers and within mil­li­seconds, oxy­gen con­cen­tra­tions can change as a res­ult of flow or or­gan­isms' activ­ity. Ex­ist­ing meth­ods typ­ic­ally meas­ure oxy­gen con­cen­tra­tions and flows sep­ar­ately and, as a res­ult, many cor­rel­a­tions between these two para­met­ers could not be de­tec­ted. Ah­merkamp and his col­leagues are now do­ing this in one fell swoop: They meas­ure oxy­gen con­cen­tra­tions and flow sim­ul­tan­eously and with pre­vi­ously un­at­tained ac­cur­acy and speed. The re­search­ers named their newly de­veloped method sen­sPIV. PIV is the ab­bre­vi­ation for "Particle Im­age Ve­loci­metry", an es­tab­lished method for meas­ur­ing flow with particles. Now the "sens" is ad­ded, the particles sense their chem­ical sur­round­ings.
The work was a tech­nical chal­lenge. In fiddly de­tail, the team man­aged to pro­duce tiny particles with a dia­meter of less than 1 mi­cro­metre, which are soaked in a lu­min­es­cent dye (for com­par­ison: A hu­man hair has a dia­meter of about 100 mi­cro­metres). This dye glows brighter the less oxy­gen is present. "It was par­tic­u­larly im­port­ant that the particles re­act very quickly to changes in oxy­gen con­cen­tra­tions. We also needed spe­cial cam­eras to ac­cur­ately re­cord the fluor­es­cence," ex­plains co-au­thor Farooq Moin Jalalud­din from the Max Planck In­sti­tute in Bre­men. He adds, "With sen­sPIV we are able to re­solve in rapid and small-scale fluid flows."
Use­ful in medi­cine, bio­logy, and much more
The pos­sible ap­plic­a­tions of sen­sPIV are man­i­fold. Many or­gan­isms in­ter­act with oxy­gen, and thus sen­sPIV can provide an­swers to open ques­tions in life sci­ences. Ah­merkamp and his col­leagues used it, for ex­ample, not only on cor­als, but also to take a de­tailed look at how oxy­gen flows through sand. Small-scale meta­bolic pro­cesses in mi­crobes, an­im­als and plants can also be stud­ied in this way. Nu­mer­ous other ap­plic­a­tions are arising in mi­cro­fluidics, which ex­am­ines how li­quids be­have in the smal­lest of spaces, and in medi­cine.
The first idea for this method came up already sev­eral years ago. "But it was only achiev­able through the great in­ter­na­tional team and our close co­oper­a­tion that the idea has now turned into a func­tional and ver­sat­ile ap­plic­a­tion," says Ah­merkamp. Now the team is ex­cited about the up­com­ing ap­plic­a­tions of the method. "The particles are not dif­fi­cult to pro­duce once you know how," says Klaus Koren. They are also think­ing about fur­ther de­vel­op­ing the method: "We would like to make sen­sPIV re­cept­ive to sub­stances other than oxy­gen. Klaus is already work­ing on it," adds Lars Behrendt.
Original publiCation
Soeren Ahmerkamp*, Farooq Moin Jalaluddin*, Yuan Cui*, Douglas R. Brumley, Cesar O. Pacherres, Jasmine Berg, Roman Stocker, Marcel MM Kuypers, Klaus Koren, Lars Behrendt: Simultaneous visualization of flow fields and oxygen concentrations to unravel transport and metabolic processes in biological systems. Cell Reports Methods. (* gleichwertiger Beitrag)
DOI: 10.1016/j.crmeth.2022.100216
---
Further Information
---
Research Associates
Max Planck Institute for Marine Microbiology, Bremen
Biogeochemistry Group
Dr. Soeren Ahmerkamp | sahmerka@mpi-bremen.de
---
ContaCt
Max Planck Institute for Marine Microbiology, Bremen
Press Office
Dr. Fanni Aspetsberger | presse@mpi-bremen.de
---
Header-Image: The flow of the newly developed particles across the coral surface is clearly visible. Foto: Max-Planck-Institut für Marine Mikrobiologie / Dr. Soeren Ahmerkamp
Newsletter
Immer aktuell informiert mit dem DAM-Newsletter.