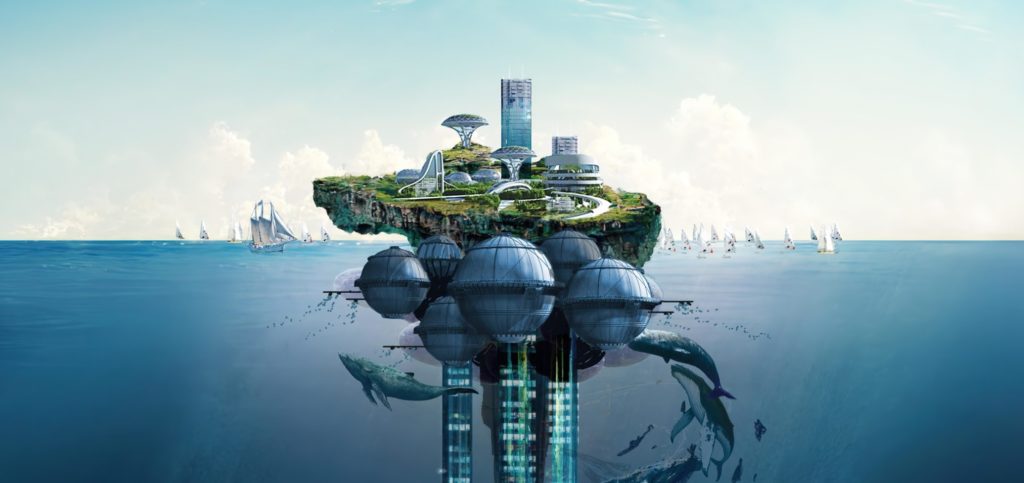 Our future with the sea
In the Ocean Future Lab, artistic visualisations of what life and the sea would look like in the future have been created. They all have one thing in common: the desire for intact marine environments.
A deep-sea research station with a connected island, the sea as a living museum and a floating algae land: as part of the Ocean Future Lab project, artists have visualised their thoughts on how we can and want to live with the sea in the future. As different as the ideas are: The topics of marine protection and sustainability are always in focus.
In the Ocean Future Lab, the German Oceanographic Museum Foundation, the German Maritime Museum, the Institute for Art and Innovation and the German Marine Research Alliance (DAM) invited people to take a closer look at the question "How do we want to live with the oceans?" In a total of five workshops spread over the year 2022, interested citizens together with representatives from science and art developed ideas and visions for our future with the oceans. The future scenarios form the basis for artistic visualisations that are intended to provide inspiration for further discussions.
For life around and on the water, living worlds or stations were created in which research, technology and education are aimed to support the coexistence of people and nature in regards to sustainability, health and well-being. All ideas for the future reflect the desire to live in harmony with the oceans. Healthy seas and oceans, intact marine ecosystems and clean water are seen as important prerequisites for the lasting well-being of people living at the sea, on the sea, and beyond: the state of wellbeing of marine environments has far-reaching significance, and is also essential for survival for life on land.
The impulses from the Ocean Future Lab are an invitation not to view the oceans mainly as an economic area (as is currently the case), but to perceive them more strongly as a habitat that must be preserved not least for our own well-being. Healthy coasts, seas and oceans are the basis of human life and our health.
The Ocean Future Lab is a project of the Year of Science 2022 – In Demand! and is funded by the Federal Ministry of Education and Research (BMBF). The images and visions created in the project can be seen here: https://www.oceanfuturelab.de/meer-zukunft/.
Header-Image: Visualisierung "The Deep Sea Research Station" | Bild: Jan Schneider
Newsletter
Immer aktuell informiert mit dem DAM-Newsletter.