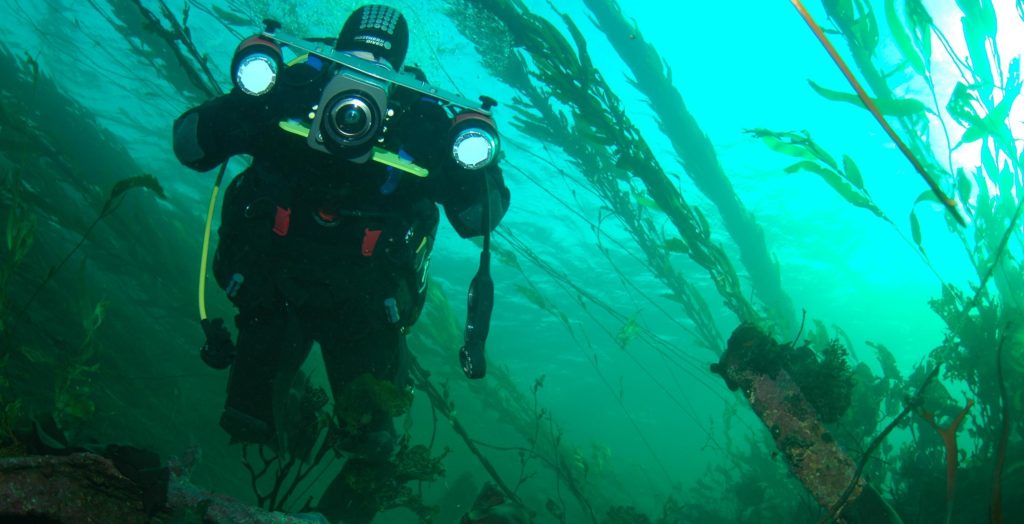 Transfer
Using Knowledge Effectively for Politics, Business and Society
The transfer of scientific findings to politics, business and society with a view to strengthen the sustainable use of coasts, seas and oceans is a core element of the German Marine Research Alliance (DAM).
The DAM pools the expertise of the German marine research community, ensures a goal- and needs-oriented exchange of knowledge and fosters the dialogue with politics and society. In addition, the DAM develops strategies for cooperating with industry, for promoting young scientists and for forging knowledge partnerships.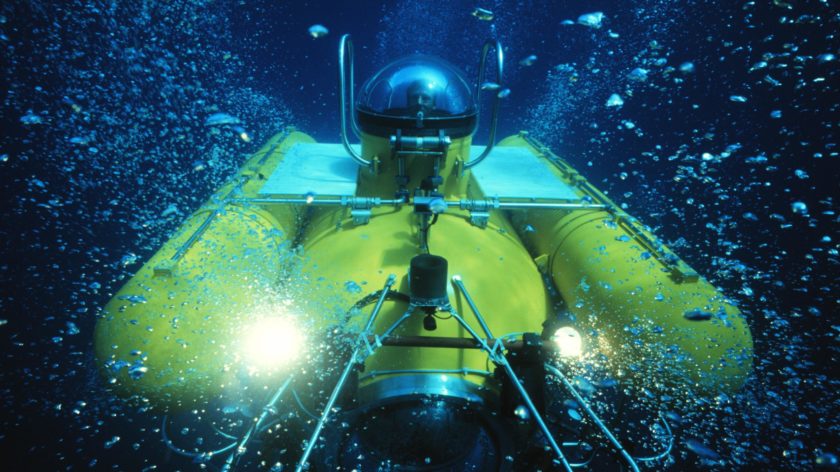 Research Missions
In the transdisciplinary, solution- and application-oriented DAM research missions, science-based options for sustainable management of the coasts, seas, and oceans are developed and made available to policy-makers and society. In addition, the research missions are intended to facilitate the transfer of scientific findings into application. To this end, relevant non-university research institutions and universities work together with partners from industry and other stakeholders.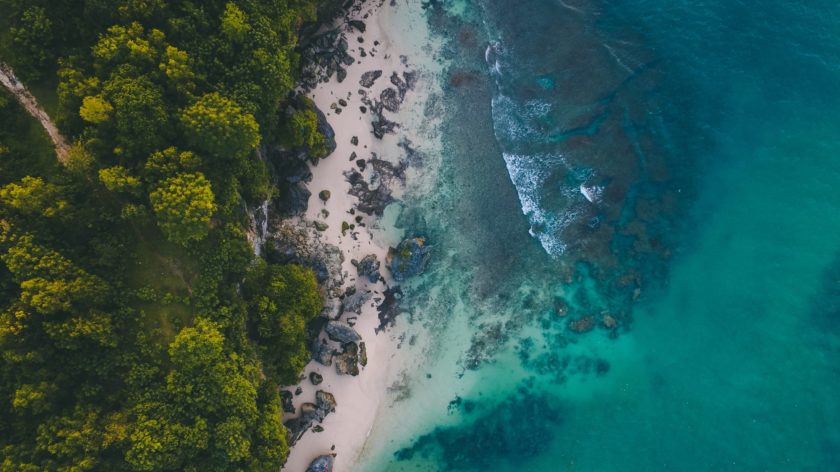 Information Portal
Two transfer projects are developing digital, interactive formats for dialogue with society: the interactive World Ocean invites you to dive in and explore. The digital information portal offers scientific facts on relevant ocean topics. The projects are aimed at bringing together the expertise of German marine research and preparing it in a demand-oriented manner.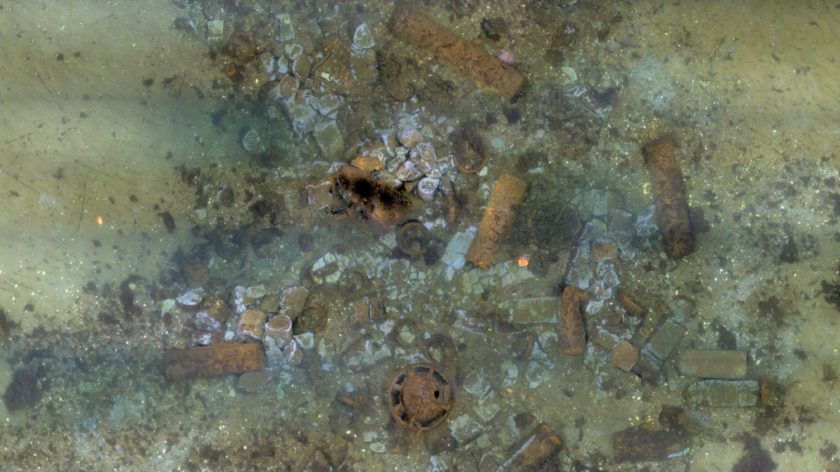 Fact Sheets
DAM publishes fact sheets on the scientific status of current marine issues. The fact sheet "Munition im Meer – Sachstand und Perspektiven" (Ammunition in the Sea – State of Affairs and Perspectives) provides an overview of ammunition dumps in the North Sea and Baltic Sea: DAM paper download. The Gesellschaft für Maritime Technik (GMT) has published an overview of the "Value creation perspectives for the German marine technology industry" on the same topic: GMT paper download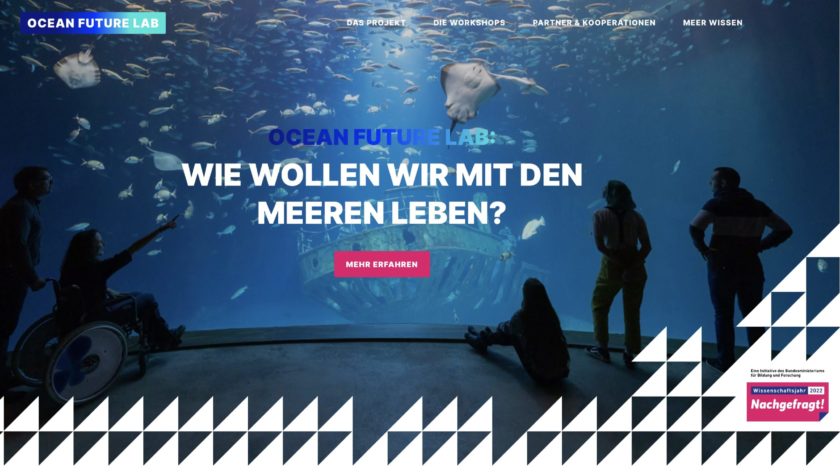 Ocean future Lab
For the Federal Ministry of Education and Research's "Science Year 2022 – Inquiry!", DAM has joined forces with the German Oceanographic Museum, the German Maritime Museum, the Institute for Art and Innovation and Futurium Berlin to develop the Ocean Future Lab, a series of co-creative workshops in which citizens, young scientists and artists jointly design futures for life with the oceans.
FROM SCIENCE INTO PRACTICE
Scientific findings have an impact on society when they lead to innovation, new developments, decision-making or a growth in knowledge outside the research community. At the same time, exchanging information with non-scientists allows questions and views that are pertinent to society to be incorporated into research. As an umbrella organisation, the DAM builds on the expertise of the German marine research community to provide the framework for the application-oriented transfer of specialist knowledge on various topics surrounding the sustainable management of coasts, seas and oceans. Working together in the DAM, German marine research can achieve greater visibility and efficacy within society and on the political agenda.
fields of action FOR the DAM knowledge transfer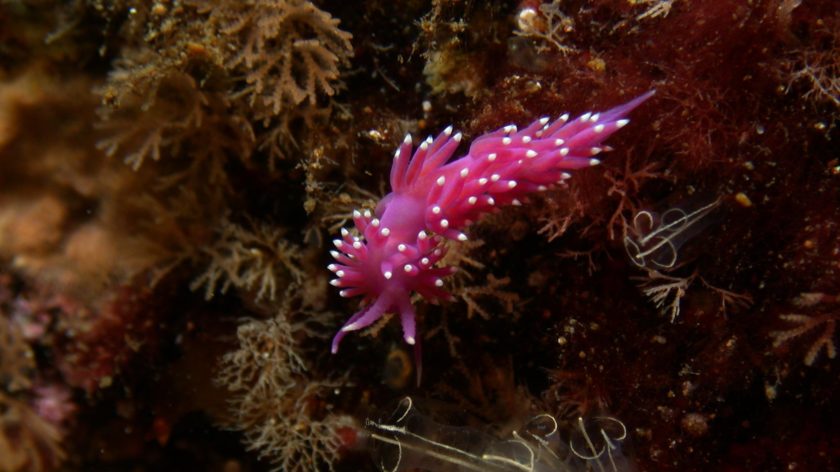 UN Decade
The United Nations has proclaimed the years 2021 to 2030 as the Decade of Ocean Science for Sustainable Development. Policy makers, society and scientists are to work together to successfully implement sustainable development goals for "life under water". Knowledge transfer plays a key role here. All the DAM's transfer activities are also in the context of the UN Decade.
HOW DO WE WANT TO LIVE WITH THE OCEANS?
Postcard-campaign: Every individual is called upon when it comes to the future of the oceans and therefore our future and that of our children.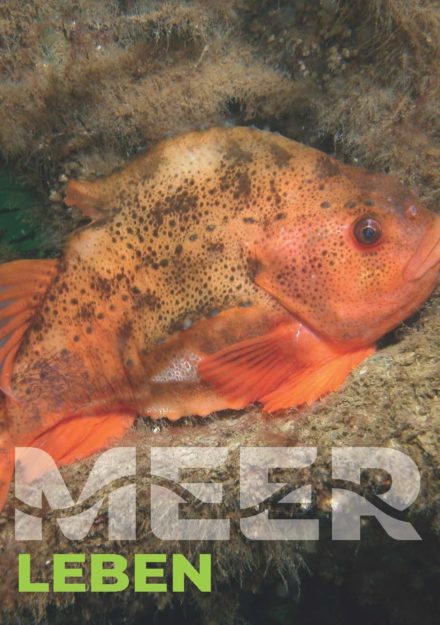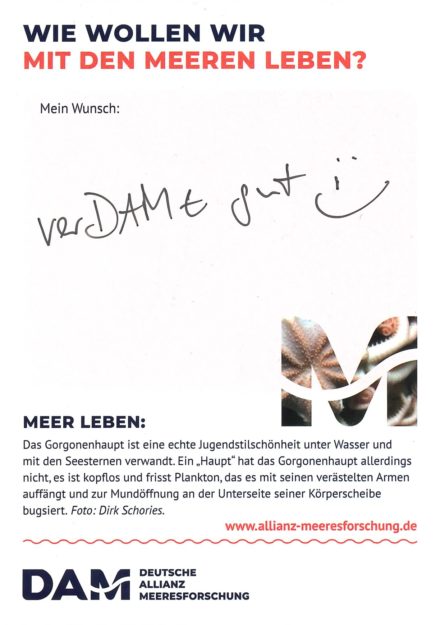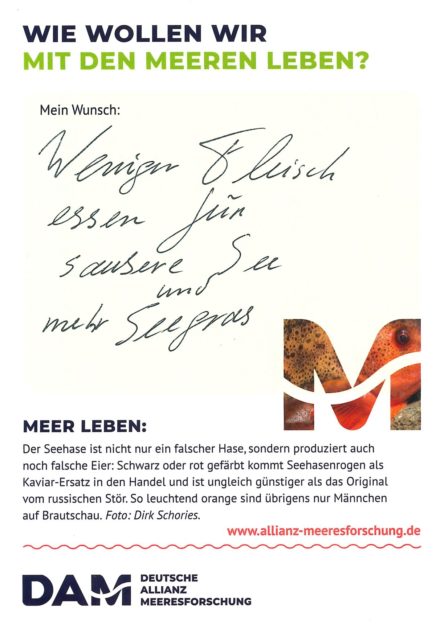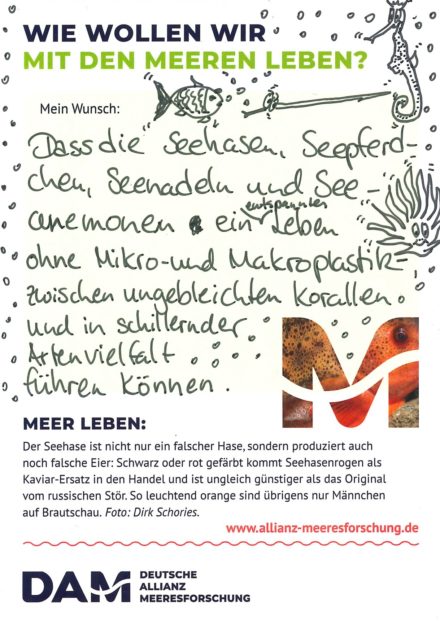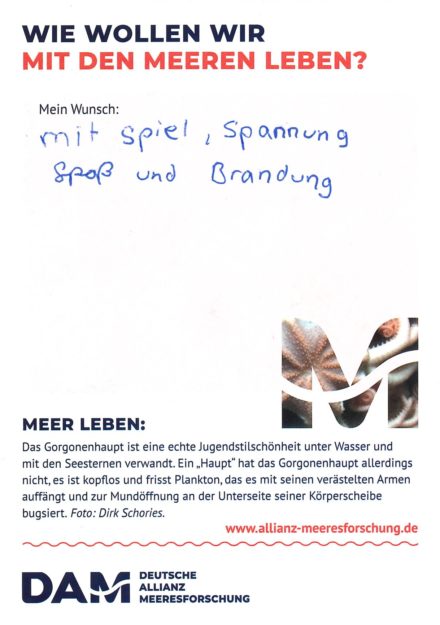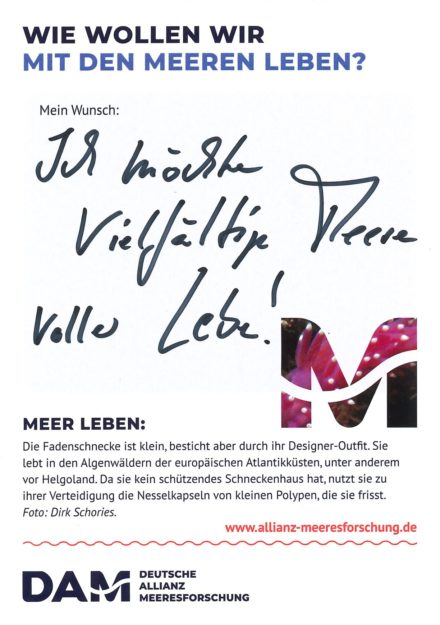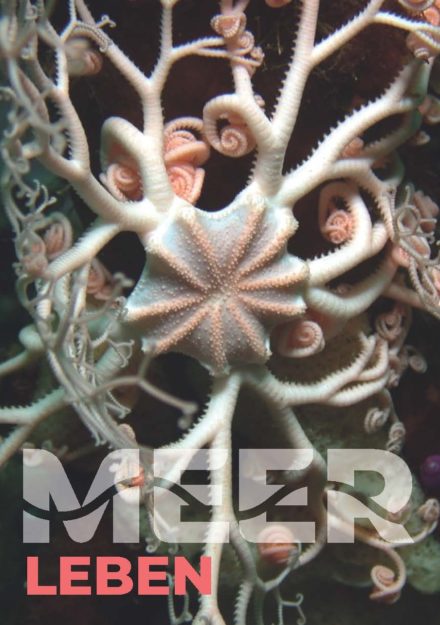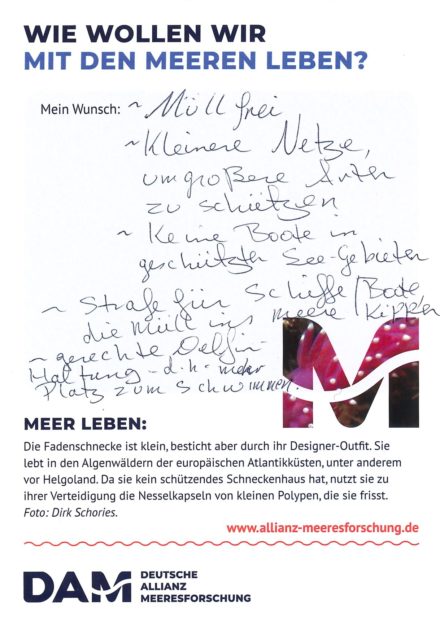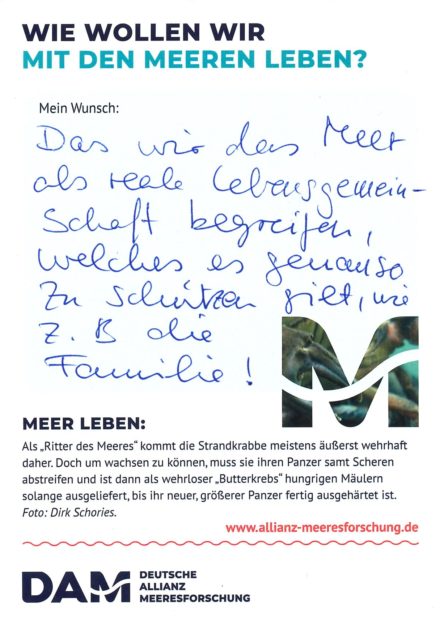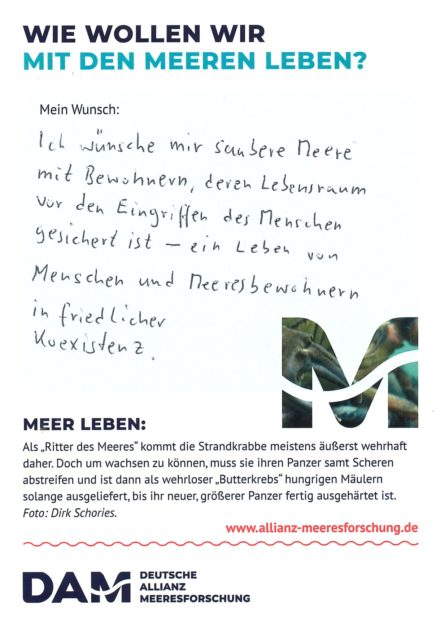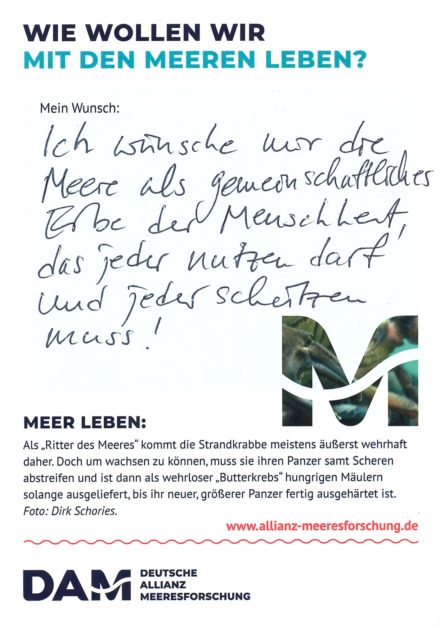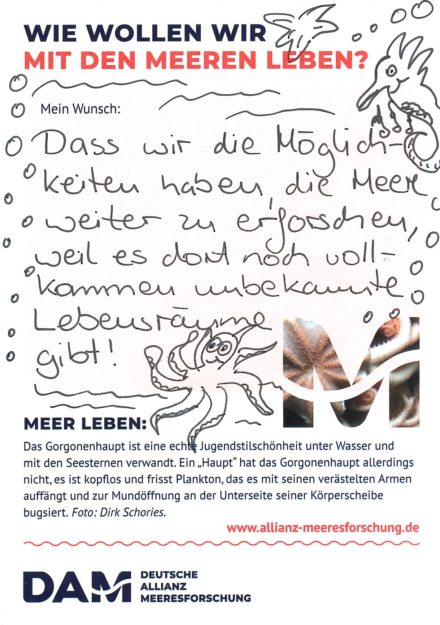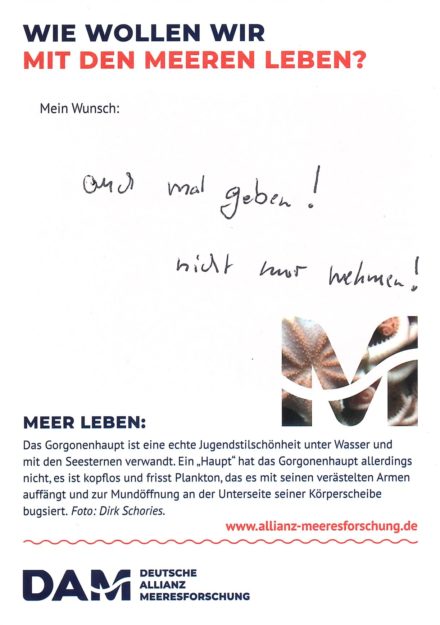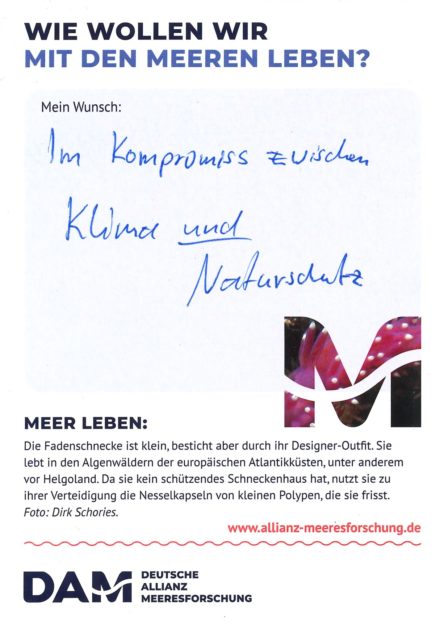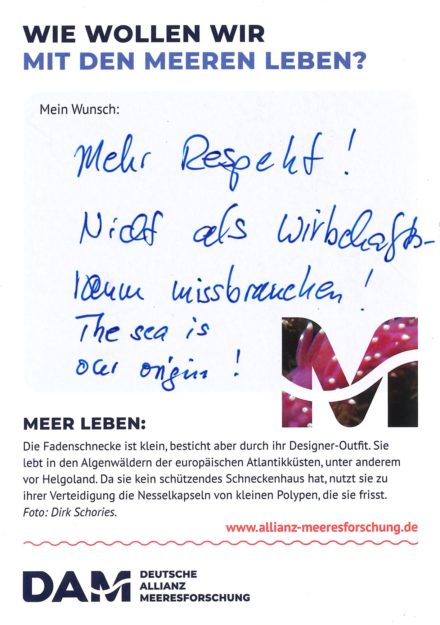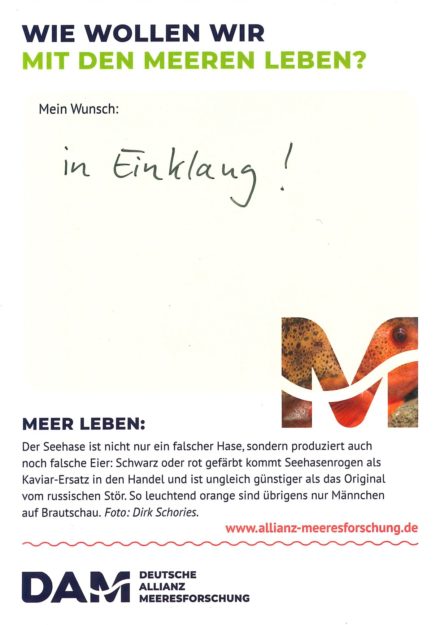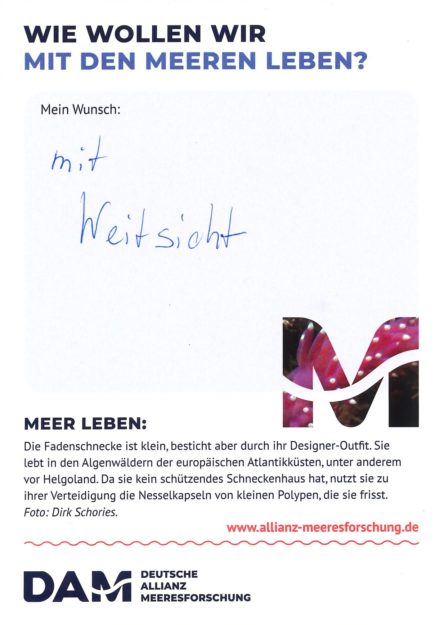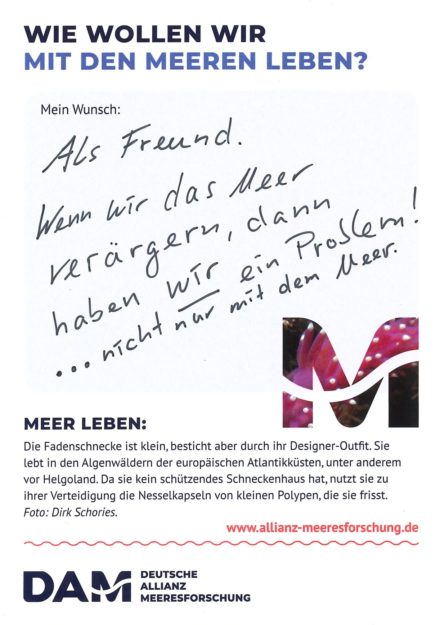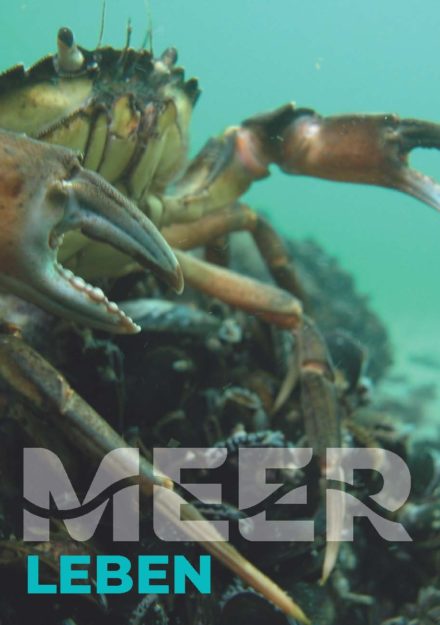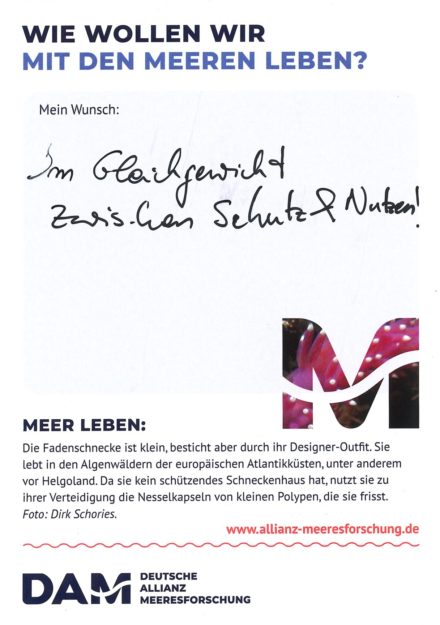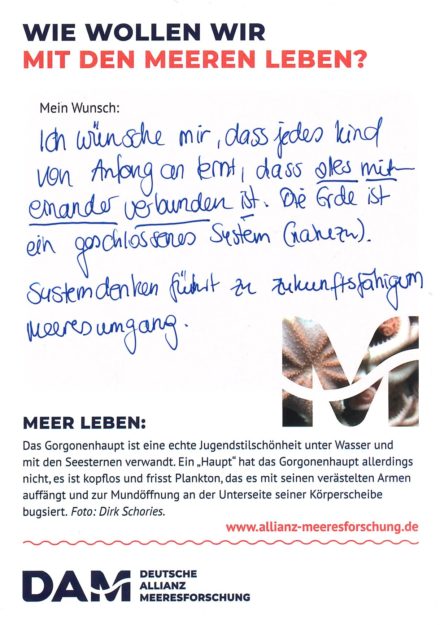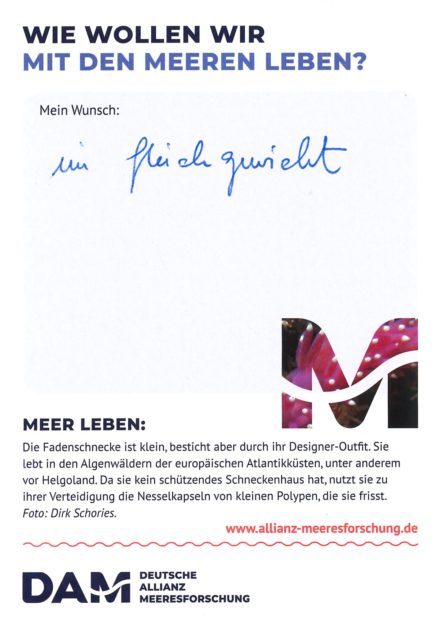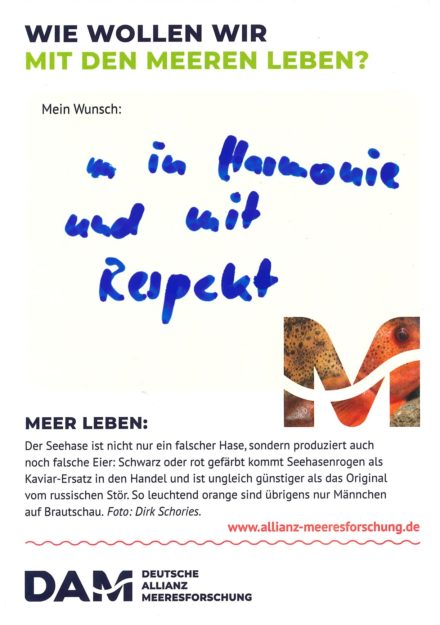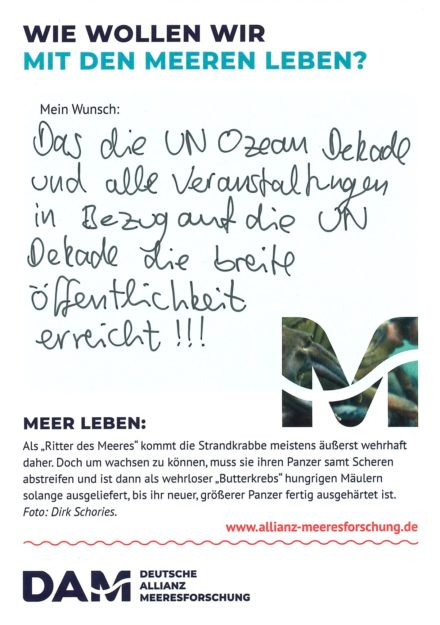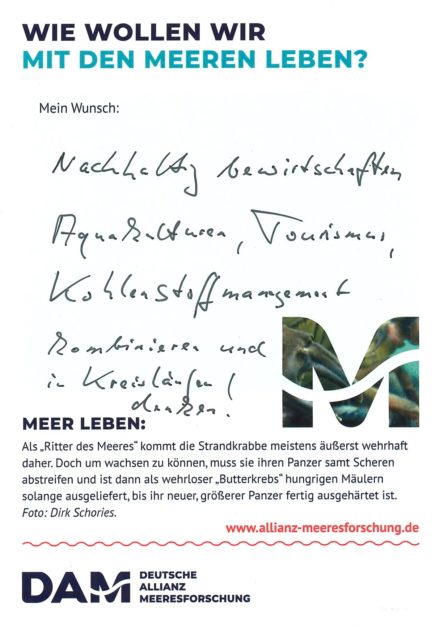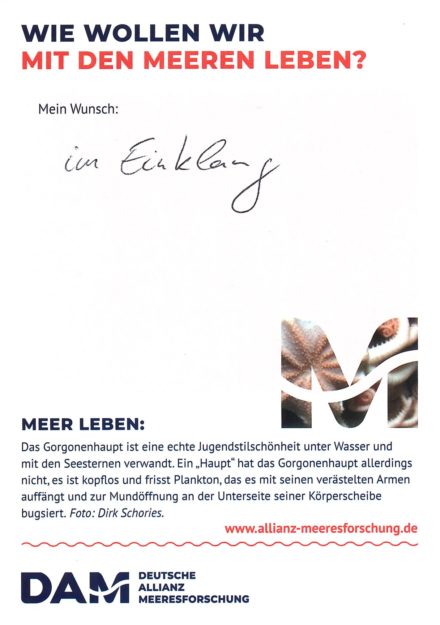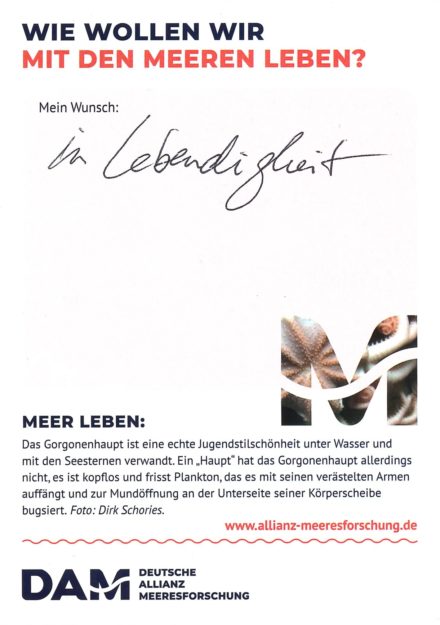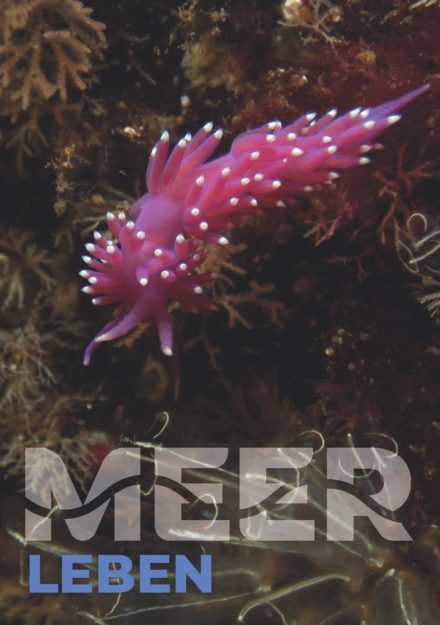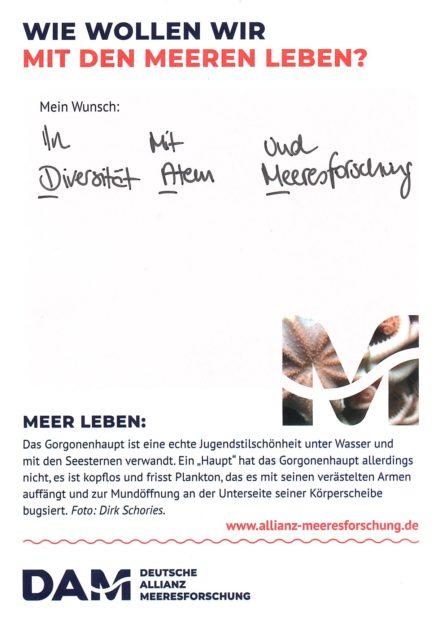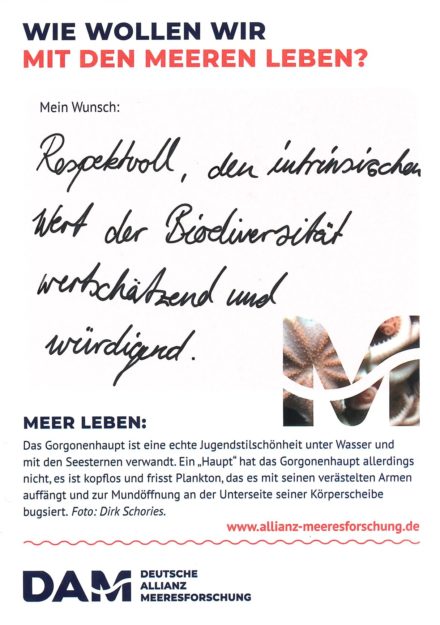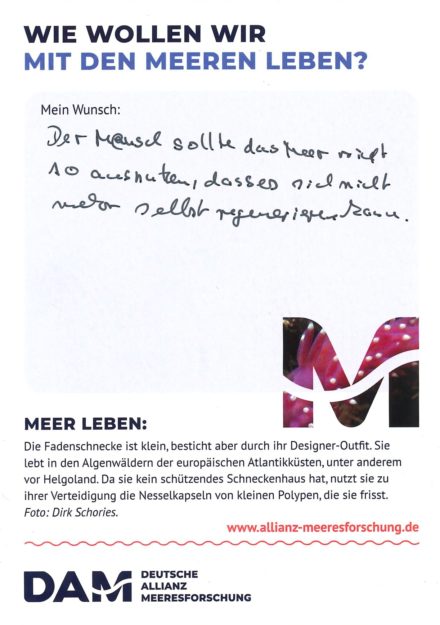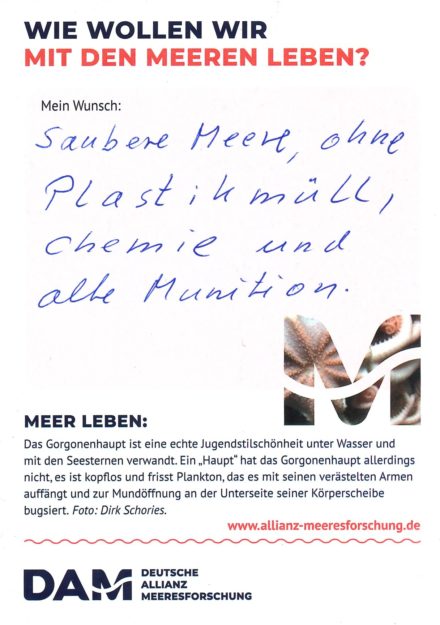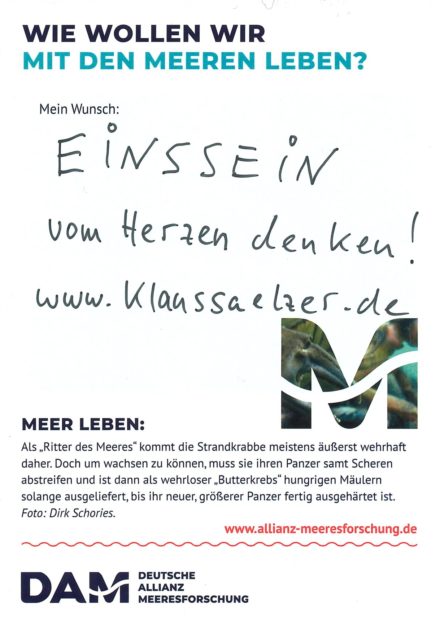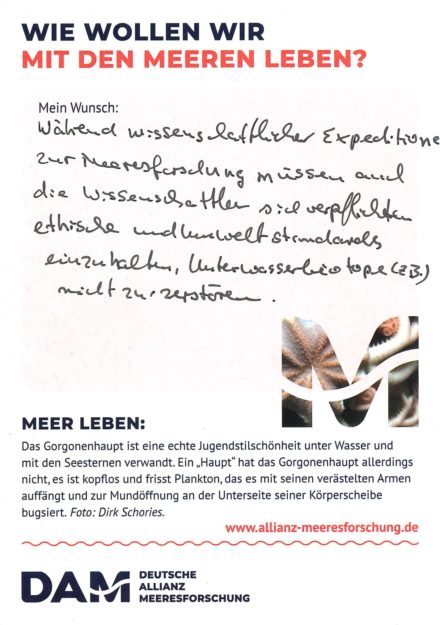 Cooperation with Business
In order to encourage the sustainable use of coasts, seas and oceans, it is particularly important to work together with industry stakeholders, promoting solutions and innovation for sustainable management and forging new alliances for this purpose. The DAM can help to initiate this type of cooperative venture involving science, marine technology and industrial players, while also including politics and society in the process.
The activities of the DAM, especially its research missions, are designed to allow research and development projects to be established in close cooperation with industry. To this end, the DAM is strengthening the exchange with industry representatives and technology transfer. Companies can benefit in many ways from participating in the DAM research missions, while in turn enriching them effectively as important stakeholders and partners. Aspects from which both sides can benefit include:
joint projects for research and development, testing, innovation and technology transfer
joint initiatives for personnel development and promoting young scientists
joint impulses and initiatives for a sustainable management of coasts, seas and oceans that is fit for the future
promoting international networking.
Promoting sustainability
A survey carried out by the German Society for Marine Technology (12/2020) demonstrates that the UN Sustainable Development Goals and the related measures adopted by the German government are not nearly as well known in companies as they are in research institutions. On the other hand, many companies are very open to sustainability issues and themselves see the need to position themselves sustainably in order to be ready for the future: Customers and investors alike are increasingly calling for sustainable business practices and sustainable products and services. In order to do justice to these market drivers, but also to the company's own ethical requirements for preserving the basis for life, industry is increasingly asking for scientific findings. In this context, the exchange of knowledge must be designed to be as concrete as possible and oriented towards the needs of companies. However, it is also often mutually beneficial, because scientific institutions can learn from pioneering sustainability solutions developed by companies. The following aspects play an important role in the exchange of knowledge:
communicating comprehensible and relevant knowledge, engaging in dialogues about sustainability issues
promoting awareness in companies for sustainability as an issue for the future (sustainable use of marine resources)
assuming social responsibility (businesses as important stakeholders in all aspects of sustainable management)
creating development potential for sustainable solutions and the necessary incentives and framework conditions.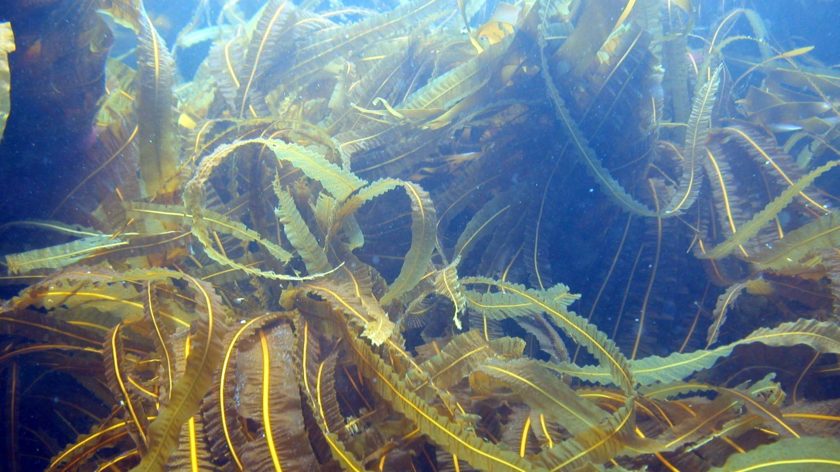 "For many, the ocean is the new economic frontier. It holds the promise of immense resource wealth and great potential for boosting economic growth, employment and innovation. And it is increasingly recognised as indispensable for addressing many of the global challenges facing the planet in the decades to come, from world food security and climate change to the provision of energy, natural resources and improved medical care."
TRANSFER "THROUGH MINDS" AND OPEN ACCESS POLICIES
The DAM's research institutions participate in a variety of ways in teaching, training and promoting young scientists. Interdisciplinary offers are also available in the natural sciences and engineering; for example, climate and ecosystem knowledge is also integrated into academic degrees such as Maritime Technologies. Many graduates go on to work for companies, bringing their expertise into the business world.
In addition, companies need to keep refreshing this know-how, to pick up new ideas and findings from science and to use them in their corporate development. This calls for needs-oriented further education programmes (with certificates), which can be developed by the German marine research community under the DAM umbrella. In addition, exchange programmes and qualification initiatives, e.g. for technical or teaching staff, encourage networking and the exchange of innovative ideas and inspiration. This requires suitable conditions and resources.
Furthermore, research institutions transfer knowledge, data, software and technologies non-commercially to commercial applications as part of their open access policies. This transfer can also be supported by the DAM core area Data Management and Digitalisation and by the DAM research missions.
PEOPLE AND OCEANS
Seas and oceans play a central role in climate, are the largest ecosystem, and are indispensable for life on Earth. They are subject to considerable human-induced pressures and at the same time are closely interwoven with human culture. They are a source of food and raw materials, trade routes, places of longing, and a source of inspiration even for people living far from the coasts.
In a survey, we asked members of DAM's Stakeholder Forum from politics, business and society which topics are important for our interaction with the oceans, here are the results.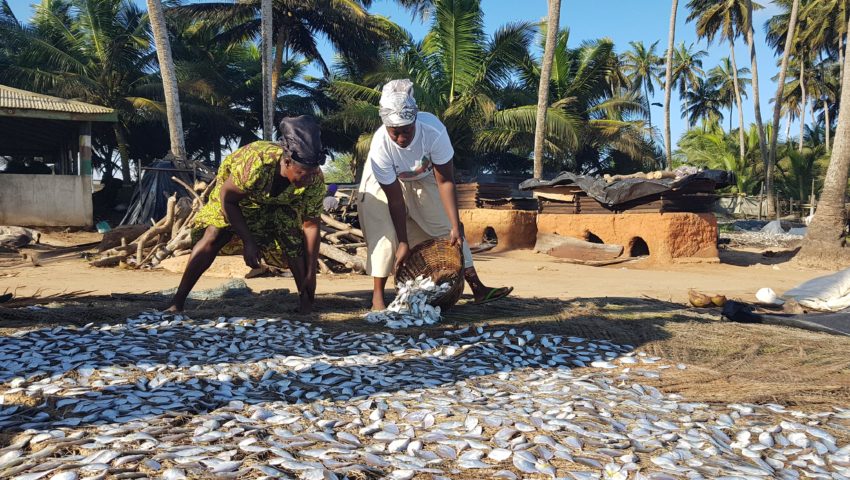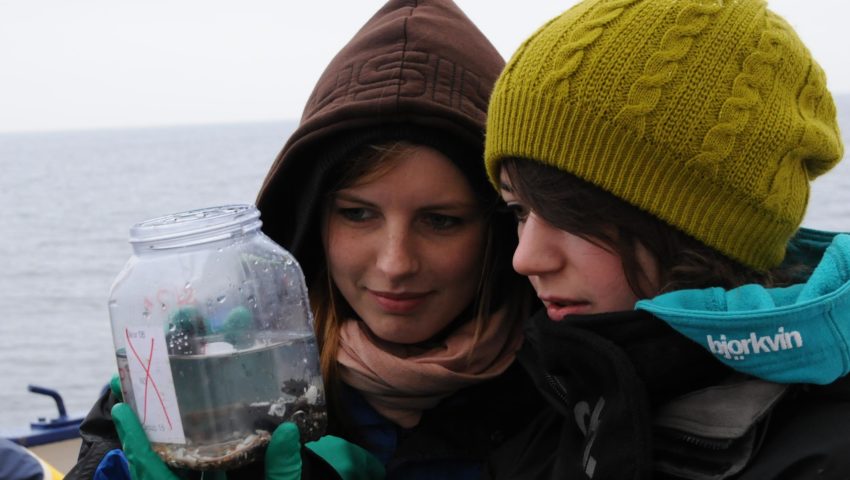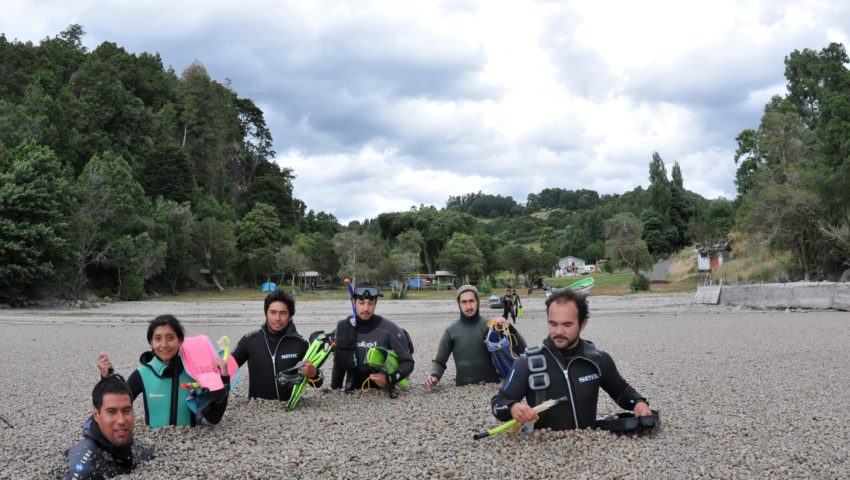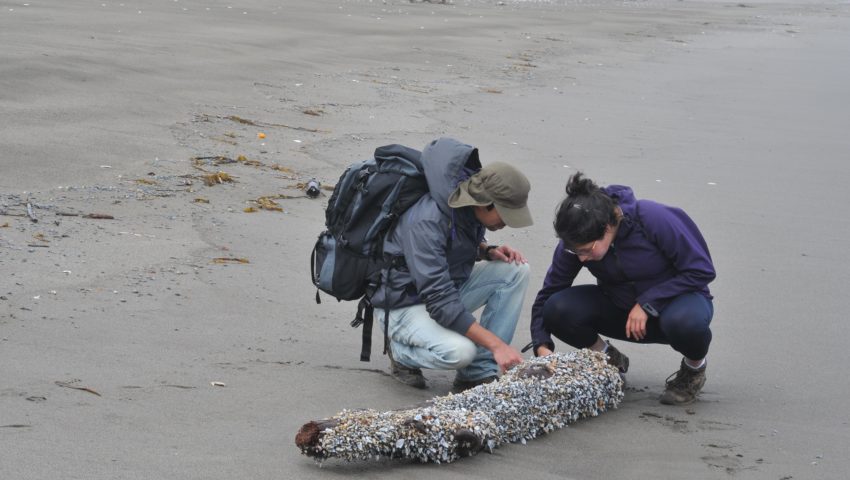 Newsletter
Immer aktuell informiert mit dem DAM-Newsletter.